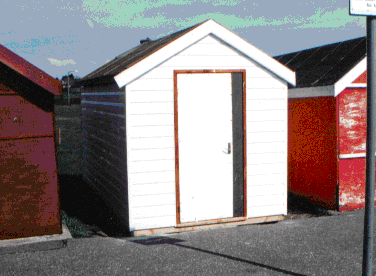 Why not make this appeal your on-going charity - you can see the results for yourself!
The Beach Hut Appeal
As you probably now know, the Appeal was set up to raise money to re-instate a run down Beach Hut at Thorpe Bay - mainly to enable disabled children and adults, our pensioners, the blind - in fact anyone who would benefit from a day near the beach. The condition of the hut was such that it was decided to pull it down and erect another.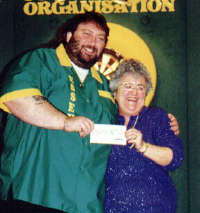 With the aid of raffles, marathons and generous dart players, the erection of the new beach was completed and all the main essentials put in place - it is now available for use.
Upkeep of the hut and rates also need to be funded - but with the help that is coming in, we can achieve everything.

Latest amounts to come through have been £75 from the Little and Large Club from their Bullseye Night and £170 received from the Ingatestone & District Dart League - a strong supporter of the hut in many ways (October 2004), £95 (July 2004) received from Cupids Country Club - Many thanks to all you darters for the help you are giving to the fund.
Heart of Darts continue to give the hut their full backing - thanks to Ian Weller and his team - visit their site to see news on the hut from their angle - last year Heart of Darts completed painting the interior and re-felted the roof (see photos on their site).
It is cheering to see so many people enjoying the use of the beach hut but, don´t forget, if you know of anyone who could benefit from a day at the beach and who would like to use the facility (whether it is the disabled, blind, aged, children, or someone really in need of a pick-me-up) a beach hut diary is kept and will be able to let you know available dates.
I would like to thank everyone who has contributed so far and to those who are organising fund raising events such as marathons etc. Please send photos of these events to me for inclusion in these pages - let everyone know what you are doing to help.
Thank you all for your continued support - it is really appreciated.
This is a needy cause whereby you can see where your money is being spent and visit - Cheques towards the funding should be made payable to ´The Beach Hut Appeal´ and sent to Janet Bristow, 286 London Road, Wickford, Essex, SS12 OJZ.
Sheila
[Index2_files/sheilafooter.htm]