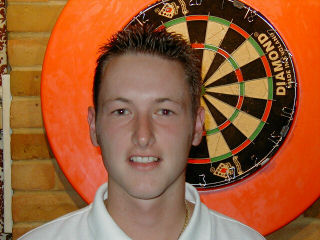 Name: Ben Adams
Team: Rochford
Team Venue: The Ship Public House, Rochford
League: Essex Men's Super-league
In Brief:
Ben was born in Eastwood in 1982 and started playing darts in the Southend Victullars league in 1997/8 season. He took up darts while recovering from an ankle ligament injury suffered playing football with his dad at the Oakwood.
After two seasons with the Oakwood, he had a successful spell with the Ship Nomads where he won a league and cup winners medal in 2001 and was runner-up to Steve Maish in the Singles.
A member of the Rochford Super league team since 1999 he reached the semi-finals of the pairs last season with Phil Daldry as his partner.
Ben was a member of the Canvey Youth team from 1998 to 2000 where his achievements were outstanding. In 1998 he reached the last eight in the World Masters and a play-off winner in 1999. In 1999 he won the 'Stan Clarke' Singles and was runner-up in the National Youth Pairs with Jason Wiles. He also won the Tons title and retained it in 2000, also winning the 180's title. In 2000, he had a season with York Bees in the Basildon Thursday Club league.
In the first 'Del Lewis Memorial' competition held at the Albion, Ben received that award for the furthest youth player (last 16). Another highlight was being selected for Essex Youth team, which lead to him being selected and playing for England.
He has continued his youth form in the Men's Super-league and as a reward has been selected for the Men's County team. He loves his darts and is playing back at the Oakwood in the Victullars league and also at Brookside in the Southend & District on a Tuesday, who was the Bowman Shield winners in 1999. Ben's goal is to become a regular in the county team and play for the 'A' team.