The Pentathlon is based on a maximum of 20 players... The IDDL have adopted the format to suit entries over the years, as we haven't managed to fulfil the full numbers to date...
The first Pentathlon took place as part of the 50th Anniversary celebrations on 27th February 1999,
at the Royal British Legion Club, Chelmsford...
There have been a total of 8 Pentathlons with 53 different players taking part...
John Hansell is the most successful Pentathlon Player with 3 wins and a 2nd place; Martin Compton has 2 wins; the 3 other winners are Kirk Little, Andrew Westcott & Barry Howgego...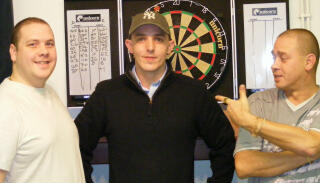 Steve Smith (3rd), Barry Howgego (1st),
Paul Sedge (2nd) - 2009